I hate the Academy Awards. Sorry, I do. I'm very happy for all the winners and nominated people and things and people barely in the running and those who voted for everything and got lots of free preview DVDs out of it (thanks for all the #OscarsSoWhite, guys), but this is public relations at its glitziest. And unless I'm getting paid, I tend to avoid most forms of public relations.
That said, I'm very happy for the
Inside Out
win because my friend worked on that one and it's a great film that will be enjoyed for many years to come (Jackson loves it and he's not a movie guy at all). Also, people I've worked with in the past who won an Oscar, I salute you—I know the multitude of hours that goes into quality film work, and these wins are deserved.
But the show is so loooooooong. And #OscarsSoWhite, c'mon! So here are some alternate winners from the movie coffers of my mind. You don't have to agree with them, but I'm a voting panel of one and my vote stands.
Welcome to the Academy Awards From Across Time, Space and Reality. (*applause*)
Best total panic during an election year, and ever -
Airplane!
Best fat dinosaur - this guy.
Best use of prop bowling balls -
Big Lebowski
!
Best shooting the lower leg off cattle while touting inane schizoid Scientology mythology -
Battlefield Earth
!
Best just what the fuck is going on here?! (wait for it) -
Artificial Intelligence
!
Still the best high school weirdo - Ally Sheedy in
Breakfast Club
!
Best psychedelic animated cat - Felix the Cat!
Best stand-in for Donald Trump should someone need a Grade-Z movie substitute to do so -
Robot Monster
!
Best Natasha Lyonne - Natasha Lyonne!
Best awesomeness overall in general, female - Pam Grier!
Best awesomeness overall in general, male - Toshiro Mifune!
Jesus Christ, how could anyone be this beautiful? - Liz Taylor and Paul Newman!
Best
Lord of the Rings
ent on fire - this one!
Was she ever bad in any movie, I don't think so - Barbara Stanwyck!
Best Goblin King - David Bowie, of course.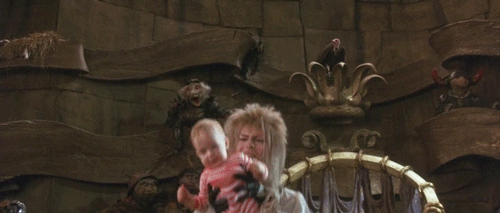 Last time I remember genuinely loving Johnny Depp in a role -
Ed Wood
!
How many takes did this take? Probably a lot. Give it up for Crispin Glover with that chocolate milk!
She makes me want to smoke, but don't worry, I won't - Bette Davis!
Oh my God, Rita Hayworth in
Gilda
, amiright?
Can do no wrong - Buster Keaton!
And now for the musical portion of our show, ladies and gentleman, give it up for Prince!
Continue to stare at your television until further notice.
Sorry for the general #GifsSoWhite. We will be working on this, so stay tuned.